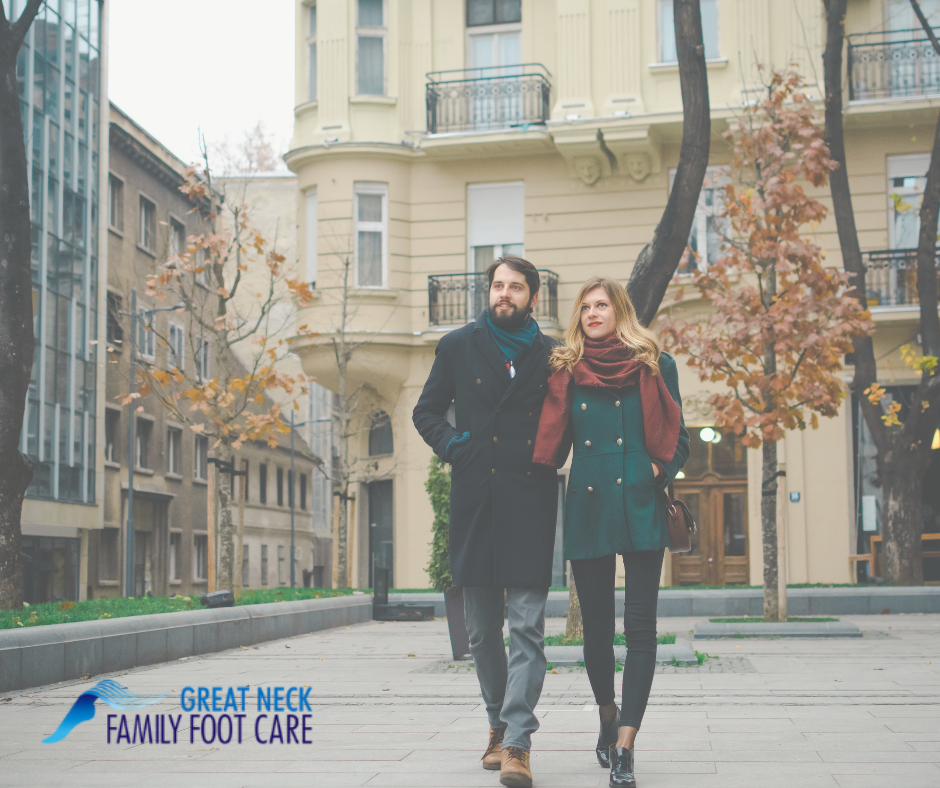 28 Dec

Walking Into The New Year With Proper Foot Care

One of the best parts of the human experience is getting a clean slate on January 1st each year. If you're looking to make some healthy changes in 2021, our team at Great Neck Family Foot Care recommends starting with your feet! These body parts allow for walking and bear most of your body weight, so their health should not be overlooked. Thus, our team would like to take this time to offer up some useful foot care tips and touch on how our services can be utilized for your benefit.
Wash Your Feet Daily
The first tip that will improve your foot health is to wash this area daily. Proper hygiene can help prevent infections and other issues that commonly plague the feet. Be sure to wash them in warm, soapy water before drying them off completely.

Wear The Right Shoes
Another great way to improve your feet health is to wear the right footwear. More insight needs to be made into the shoes you wear other than merely their looks. To keep your feet protected, you must focus on the below before putting any pair of shoes on your feet:
They offer ample ankle and arch support.
The toe box is wide enough to prevent friction.
Shoes fit snuggly but not tight enough to cut off circulation.
There is proper traction on the soles.
Additional Foot Health Tips
Here at Great Neck Family Foot Care, our team is well versed in keeping feet healthy and protected. To start the new year off with an increased focus on foot health, please take note of the additional foot health tips listed below:
Trim your nails regularly.
Limit the number of times you wear flats and flip flops.
Moisturize daily.
Wear socks that help keep your feet dry and warm.
Perform regular inspections of your feet, so you know when care is needed.
Treatment Options With Our Team
Even after taking steps to improve your foot health in the new year, our team understands that some issues are unavoidable. When this is the case, don't hesitate to schedule an appointment with us. Depending on what you are dealing with, any of the below methods can be utilized to improve your condition:
Excel V+ Laser: Those dealing with specific cosmetic issues of the foot will significantly benefit from laser treatment sessions. The Excel V+ laser will target problematic areas of the foot with laser wavelengths that help relieve issues such as spider veins/telangiectasia, sun spots, and collagen problems.
Swift Wart Treatment: When warts develop on your feet, quick treatment is needed to avoid more from spreading. Fortunately, our team has invested in a device known as Swift that helps remove these pesky warts. This immunotherapy powered by microwaves targets warts so they can be removed from your feet.
OnyFix Nail Correction: Chronic ingrown toenails can cause massive problems for your feet. However, with our OnyFix Nail Correction service, this problem can be eliminated! OnyFix is used to restore your nails' natural growth patterns, so ingrown toenails become a thing of the past.
Keryflex Nail Restoration: Has toenail fungus or injury warped the appearance of your toenails? If you want their natural appearance back, Keryflex Nail Restoration is the answer. This method provides immediate cosmetic improvement and creates a natural-looking nail.
Contact Us
This year, do not let yourself fall behind on your foot health. For more excellent care tips or to schedule an appointment for treatment, be sure to contact us at Great Neck Family Foot Care today.