12 Jun

Expansion of Long Island Podiatrist Office Great Neck Family Foot Care

Long Island Podiatrist Expands Office and Services for Great Neck Community.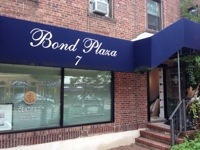 We can not believe that it has has been 13 years since we opened our Long Island podiatry office in Great Neck. We remember it being a tremendously stressful and exciting undertaking. We had been through it all …or so we thought. College, Podiatry School, Demands of residency training, several moves, working for several established podiatrists who at that time needed additional support for their offices, as well as becoming the podiatrists for several New York City Dialysis Centers. The year we decided to build and start our very own practice from scratch was the same year my niece was born and I still can remember my sister, our office manager bringing her to work, and putting her down for naps in our staff room. Little did I know that 13 years later, the day after that little baby's BatMitzvah, would we again be under going construction.
The men arrived early as they had promised welding hammers and crowbars, tools they used to dismantle the remenants of our next door tenants hair salon, which we hope in about 10 weeks will be the new and improved home of Great Neck Family Foot Care and OnychoLase® Laser Nail Center.
June 13, 2013
It's us an amazing thing to be working in our Long Island Podiatry office we have been serving the feet of Long Island in for the last 13 years listening to the contractors building our expansion. The current plans are to open up the walls in two sections of our existing office to make the adjoining space one with our current office. We will be adding two treatment rooms an additional bathroom, expanding our stock storage as well as completing a secure and HIPAA compliant storage room. In addition we will be expanding our digital X-Ray technology to the additional treatment rooms as well as our digital health education program.Today the framing of these new spaces were completed for our podiatry and laser nail center. Here is today's progress picture.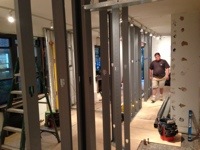 July 1 , 2013
Well the last 2 weeks have really been about organizing some subcontractors and making sure the details for the finishes will be available when required. As you walk around in a space that is being finished for you to work in it becomes imperative to actually sit in it and go through the motions as you will daily to ensure that your work space, in this case a medical office will be beautiful as well as functional.
I literally took one of my treatment stools into the space and sat in the room and pretended to treat a patient, this ensured that my medical drawers and instruments will be in the appropriate place to effectively treat my patients.
Little details, like where do I want the television screens and the volume controls on the wall ? Quickly became apparent while sitting in this unfinished Long Island podiatry office.
In addition to these exercises, lists are being compiled as to materials that need to be ordered prior to installation, namely sinks, phones, speakers, flooring, chairs and air conditioning.
At this point our custom cabinets have been ordered and the flooring as well. We are now ready for final electrical installation and plumbing rough in for treatment room sinks.