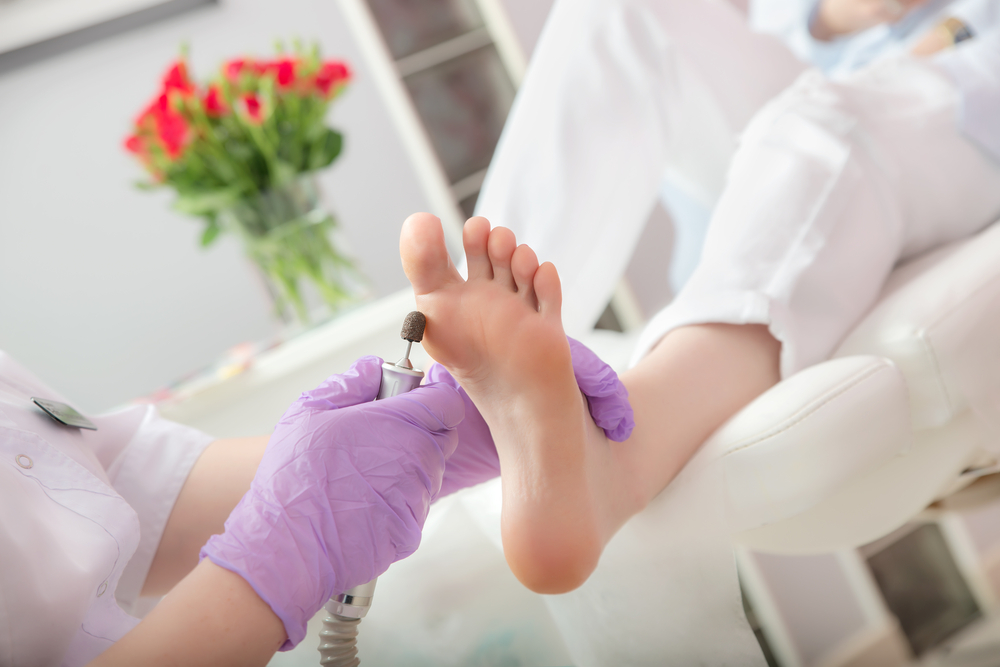 01 Sep

The Sterile Pedicure: Avoiding the Dangers of Nail Salons – Podiatrist in Port Washington

Nail salons seem to present the perfect opportunity for many people to lay back and enjoy themselves for a few minutes of luxury in the midst of an otherwise stressful schedule. Having your nails done can be a relaxing experience–not to mention the fact that looking down pretty fingers and toes will be sure to make you smile. There's just one problem: nail salons aren't regulated by health agencies, and as a result, they could be hazardous to your health!
The Dangers of Nail Salons
Many people never give a second thought to the safety of their nail salons. After all, everyone visits them, right? Unfortunately, about 75% of salons don't have sterile procedures in place that will ensure that the tools you're using aren't contaminated by bacteria or fungus. Biological hazards are a serious concern for workers in nail salons–and those risks can end up affecting customers, too. Most nail salons won't turn away a paying customer no matter what infections or problems they seem to be struggling with. Foot fungus, ingrown nails, and open wounds are all red flags, but many salons choose to welcome those customers anyway. When sterile procedures aren't observed, that's a serious problem! Unless your nail salon falls into a significant minority, the odds are good that you could leave your nail salon with a bacterial, fungal, or viral infection. That's the last thing you want to deal with when you were just heading off for a relaxing trip to the salon!
What Does Sterile Mean?
The sterile autoclave procedure used at Great Neck Family Foot Care goes far beyond traditional disinfectant solutions to create a truly sterile solution. When you're looking for peace of mind, there's nothing like it! Our hospital grade steam autoclave ensures that every piece of equipment is absolutely sterile every time. In addition, the entire system is checked every month to make sure that it's always functioning at peak capability. No bacteria or fungus will make it through our system–and that's not something you'll find at just any nail salon!
The Evolution of Our Sterile Pedicure
No one wants to feel as though they're at risk for serious infections simply because they've walked in for a pedicure. Thankfully, at our offices, we've designed the procedures with the health and safety of our customers in mind. We provide proper sterile procedures for a variety of beauty processes, including:
Skin rejuvenation
Nail reconstruction using a patented product called Keryflex
No matter what nail or skin treatment you need, at our office, you can rest assured that it's going to be sterile and appropriate.
Who Needs Sterile?
Realistically, everyone who wants peace of mind that their pedicure isn't going to end in a disaster can embrace the nature of sterile pedicures. Some customers, however, are more likely to need it. Diabetic patients and patients who have had hip or knee replacements, in particular, know the value of sterility in their pedicure process. Ultimately, however, you don't have to have a medical problem in order to appreciate the benefits of a sterile pedicure!
Contact Us Today
The risk of infection isn't worth looking down and seeing cute toes. Your health and well-being should be retained–and that means choosing a high-quality sterile pedicure experience over a quick stop in a local salon. If you're ready for a pedicure that won't risk contaminating your body with foreign bacteria or fungus, contact us today. We'll be glad to tell you more about our sterile pedicure procedures or to provide you with any information you need about our other processes. Already convinced that a sterile pedicure is the way to go? Set up your appointment now!