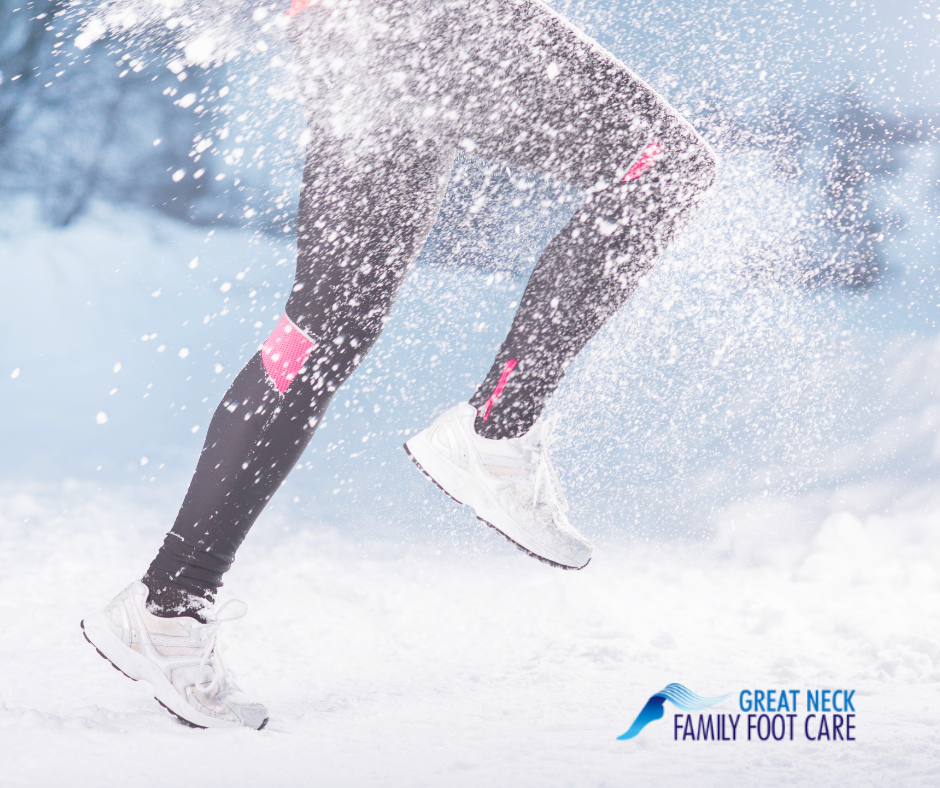 01 Feb

Keep Your Feet Healthy During Winter Running

Many people tend to enjoy getting outdoors and going for a run no matter what the season. However, even the most experienced runners can quickly face problems when they run this winter if they aren't safe. Here at Great Neck Family Foot Care, our team can help keep you protected. Dr. Hochstein, our expert podiatrist, would like to provide some tips for staying healthy so you can keep running without issue!
Winter Running Problems
No matter what time of year you step outside and begin to go for a run, there is always the potential for suffering an injury. However, winter brings about additional issues that can only take place when the temperatures are cold. Fortunately, our team is well versed in treating these types of problems. The most common ones you'll face if you aren't careful include:
Bruising and swelling of the toes.
Ankle sprains.
Stress fractures.
Frostbite.
Raynaud's disease.
Stretch Before Running
One of the most effective ways to keep your feet healthy is to stretch out before going for a run. Keeping this area loose and limber before heading outdoors will cut back on the likelihood of becoming injured. It will also improve your athletic output.

Wear The Right Running Shoes
Another aspect of keeping your feet protected during the winter involves picking the right running shoes. While some think that they can put on any pair of sneakers and head out for a run, the truth is doing so can be detrimental to their foot health. To prevent injuries, we recommend focusing on the below:
Only pick shoes that offer ample ankle and arch support.
Shoes should fit snugly to avoid the foot moving around inside the shoe, but not tight enough to cut off circulation.
There should be a wide toe box to prevent friction between the toes.
Consider choosing shoes made of breathable material to stop sweat from building up.
Be sure to replace running shoes after using them for 350 to 500 miles.
Additional Protection Methods
The good news for people worried about dealing with foot problems due to winter running is that various things can be done to keep their feet protected. By sharing them with you, our team hopes to help patients avoid the need for medical attention so they can continue their running habits. In addition to what was already mentioned, other protection methods include:
Avoid running over icy or snowy areas.
Avoid running on uneven terrain.
If you begin to feel pain or discomfort in your foot while running, take a day or two off before starting again.
Never wear damp shoes or socks outdoors. If your shoes get wet during your run, make sure you take them off and get inside as soon as possible.
Schedule an appointment with our team right away if you believe you are dealing with a foot issue.
Contact Us
Even after being careful, the chance of suffering a foot problem due to winter running always remains. However, our team at Great Neck Family Foot Care can work with you to correct the problem and offer proper treatment. If you find yourself in this scenario, contact us to schedule your appointment with Dr. Hochstein today!